Exhibition Stand Design Ideas and How to Sell on Your Tradeshow Booth
Exhibition Stand Design Ideas and How to Sell on Your Tradeshow Booth
Exhibiting is a big investment in both money and time. So, if you're going to do it, do it right! This means thinking through every aspect, from what your exhibition stand might like look, to how to set it up, through to how you'll sell to customers when you get there.
In this post you'll learn how to set up and sell on your tradeshow or exhibition booth and ways to ensure that your stand is the one people will remember most. We'll also share 15 exhibition stand design ideas and why they might work for your audience.
How to sell on your exhibition or tradeshow stand booth
1. Start promotion early
A big mistake many make is leaving promotion of their show to the last month or two. However, if you look at some of the biggest and most successful brands who exhibit, they begin promoting their next exhibition right after the doors close on their current show.
You should send out a 'save the date' a minimum of eight months beforehand to ensure you reserve a place in people's diaries. Build communication from then onwards to keep everyone up to date and stay in the forefront of their minds. Ideally, keeping those lines of communication open all year round (you can start by using our 52 week event communication plan).
Design banner ads to add to your website; a customisable e-blast to send to your customer database; and a branded email signature, so that your show presence gets promoted with every email you send.
2. Get noticed by organisers and trade press
One of the best ways to promote your tradeshow presence is to speak to the organisers about promotional opportunities. Some may require payment but others, like producing a thought piece for the website, might be gladly accepted. Trade press will also often cover an exhibition and will be interested in any news being released at the show, such as a launch or re-brand.
3. Make prior appointments with visitors or hosted buyers
To encourage valuable, qualified customers to visit you on your stand, aim to make prior appointments or get involved with the event hosted buyer programme if there is one. This allows you to to identify and screen potential attendees and organise a number of appointments with them.
Hosted buyer programmes were pioneered by event industry show IMEX in the 1980s and have proved a huge success, with the organisers now hosting thousands of buyers every year. This is a great way to ensure that before you've even landed on the show floor, you have qualified leads to meet and greet
4. Engage with visitors at all times
One of the biggest tradeshow mistakes stand staff make is not engaging with the visitors. Many visitors will wander by and find the stand staff chatting between themselves, on their phones or sending emails. Try to find a position where you can comfortably be open to greet any guests that walk by and practice one or two openers that will help you to engage them.
This might be as simple as asking how they are, to inviting them on for a five-minute demo. The less you ask of a passerby the more relaxed they might feel about visiting your booth.
5. Let visitors gets hands on with your offering
One of the best ways to sell what you do on your tradeshow booth is to let visitors see it for themselves. Try to offer at least one interactive element that is more than your visitor just hearing your sales pitch. This could be a product demo, a chance to test something out, an experiment, game or quiz. Immersing your visitors in your brand is the best way to keep them engaged and give them something to remember when they go home. They might be visiting hundreds of other stands at the show – how will yours stand out?
6. Create a call to action
If you've had a great discussion with the visitor on your booth, make sure you follow up with them. This could be a request for them to send you examples of their business use case, an email after the show or a piece of free content like an ebook that you can send to them. The more personalised the call to action is, the better. Many businesses send a blanket email out to each person they met on the stand during the show – so yours needs to stand out. You might also choose to connect with high quality leads over the phone, for lunch or on LinkedIn to mix up the medium.
How to set up your booth ready for an exhibition or tradeshow
Setting up an exhibition stand for success is essential to making the most of your exhibiting opportunity. Here are a few things to consider:
Connect with the organisers – ideally on the day of build, introduce yourself to the organisers and have any questions prepared, ready to ask them. This will ensure they know who you are and will help if you need any assistance while setting up your booth.
Organise seating – think how long exhibition attendees have to spend on their feet. You may want to hire or buy a small table and chairs so that visitors can take a seat during meetings and presentations.
Know your timings – most exhibitions have a cut-off time when the show doors will open, as well as peak times when attendees will arrive and when it will be quiet. Ask the organisers, or previous exhibitors, for this schedule.
Provide a staff briefing – before the doors open make sure your on-booth stand staff know exactly what's expected of them. From what to wear, to where they should stand and how they should approach visitors. A sales strategy will ensure your booth is setup for success.
Collect data – every exhibitor needs a way to collect attendee details. Many will use the method of scanning badges but you could also use an iPad with a sign-up form (which will take care of GDPR requirements) or something more creative like a polaroid headshot to help you remember who was who.
Encourage social sharing – amplify your tradeshow booth beyond the ground by adding an element that will encourage social sharing. This could be a giveaway with a social element, a funky booth that people will want to photograph, or a surprise celebrity guest.
Follow up with visitors – most importantly, make sure you follow up with your sales prospects post-event. Many companies will put effort into attracting people to their booth, then forget to contact them. You want to stay front of mind and connect with your potential customers in different ways post-event.
Advertising ideas for standing out during a tradeshow
What can you do to stand out during a tradeshow and attract more visitors? Here, we share some ideas:
Offer a giveaway – everyone loves a freebie. Promoting a giveaway on your stand could increase footfall. Giveaways that are highly visual, like sweets or goody bags, will also help attract more visitors onto your stand.
Provide an exclusive event-only promotion – anything exclusive will help you to stand out amongst a hundred other tradeshow exhibitors. This might be a special discount code, a "buy one get one free" offer or a chance for some free consultancy with your expert team.
Launch a product – if you have a new feature, a re-brand or a new service coming up, use this launch to stand out during the event. Industry press are often sent to cover new products at the show and may feature you in tradeshow-related coverage.
Host a talk – education is often cited as the number one reason attendees visit a tradeshow. Host a small talk or panel discussion on your stand to help advertise your company and provide value to attendees.
Use branding – your tradeshow booth is a chance for you to have a branded space and bring your brand to life. Make the most of custom graphics, roller banners and wall art to stand out.
Organise a guest appearance – having a guest on your booth will allow you to begin advertising early and to encourage visitors to make a beeline for your stand once at the show. This could be organised by a series of time slots for the guest to arrive, or during a special on-stand drinks ceremony.
Create a competition – an on-stand tournament, gaming session or the chance to enter a competition will help increase your stand presence with visitors. Even better if you can announce the winner(s) during the tradeshow as a mini presentation.
Setting up your tradeshow table display
What items to buy for your tradeshow table can be difficult to know. Often at a tradeshow, any hired furniture will arrive plain, so you may want to add a few other elements to jazz up the space.
Less is more – particularly if your stand space is fairly small, you won't want to add too much clutter to your tradeshow table display.
Save space with stand-up banners – roller banners are a great way to present lots of information about your brand without needing to have printed leaflets or brochures, which take up a lot of space and often aren't sustainable. Banners can also be used to hide away items that you don't want on show.
Buy attractive giveaways – if you are going to have some giveaways on show, try to make them as attractive as possible. Bright colours will draw the eye and will look nicer on your tradeshow table than something grey or dull.
Save space for information collection – while you may decide to add a plant or decorative feature to your table remember that the aim of the game is to collect visitor information. This may mean having a clipboard, a business card bowl or your laptop present.
Hide away personal items – nothing makes a tradeshow table look more messy than personal items like keys, phones and wallets out on the table. Hide away all of your personal items in a back area or behind the table, to keep things looking tidy and professional.
15 Exhibition Stand Design Ideas and Why They Work
When it comes to designing a show-stopping exhibition stand, you need to make sure all eyes are on you.
While you shouldn't scrimp on your stand, designing a show-stopping expo booth doesn't have to cost a fortune; you just need to think outside the box. Here, we uncover 15 amazing exhibition stand design ideas from real examples and look at why they worked so well.
1. Small exhibition stand design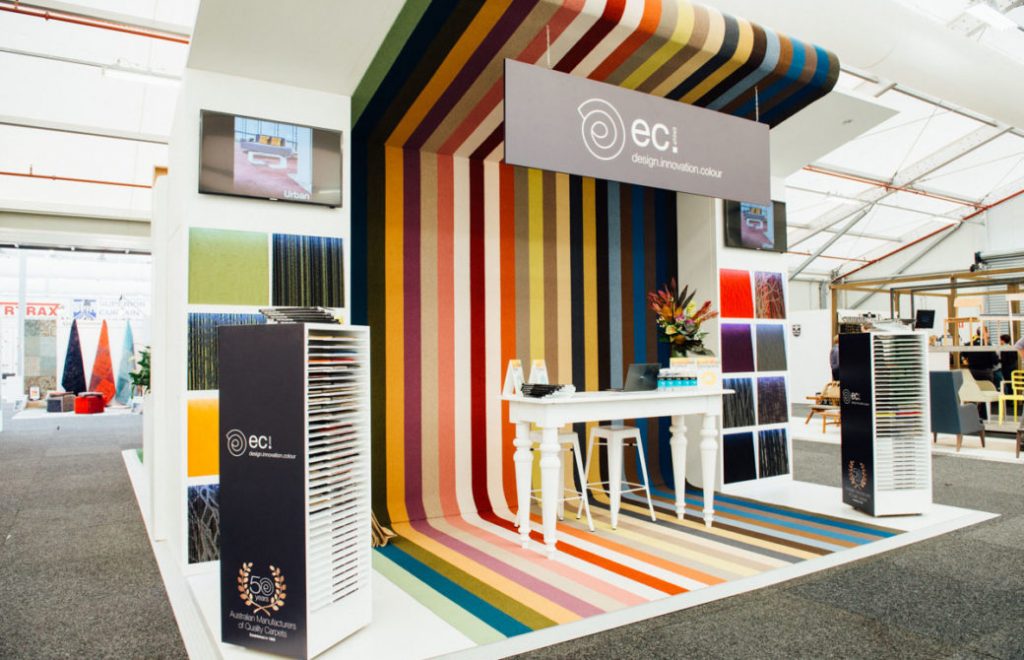 This 18SQM stand design for E.C Carpets is a great example of a small exhibition stand designed well to maximise the space available. The floor-to-ceiling carpet effect makes the stand space seem bigger, and the contrasting white balances the intensity of colour so it doesn't give you a headache. The freestanding pillars provide samples while still allowing visitors to move around them, which a fixed cupboard or storage space wouldn't allow.
Why it works:
Small doesn't have to mean uninteresting when it comes to your exhibition stand design. Even with a shell scheme, using the small space well creates a better visitor journey. In many small stand spaces you can also add height (but check with the exhibition organiser first) or use both sides of the stand walls to create more surface for you to tell your story. Look to retail stands within a store, such as beauty or technology brands for inspiration on how to sell big ideas from a smaller stand space.
Some ideas for smaller exhibition stand spaces include:
Pop ups – these are usually cost-effective stand display formats that can be quickly assembled and even reused for future events. Most pop up stands contain roller banners, cardboard display graphics and furniture which is easily removed.
Product demos – smaller exhibition stand spaces lend themselves well to one-to-one or one-to-few product demos where you can be close to the customer and allow them to get hands on with your product or software.
Video displays – if you have minimal space on your stand, use a TV monitor on wheels to give you more room to tell your story. Queueing four or five videos or presentations will allow you to share key messages without needing a huge amount of floorspace.
Graphics display – when you have a smaller stand space it can be difficult to make an impact. Use graphics to cover the available booth space, to ensure you stand out and get noticed. If you have a space-only stand you could also use the space to create something interesting, like an indoor garden or even a tent-type igloo.
Speed dating stand – if you only have space on your stand for two chairs and a table why not poke fun in the size and create a "speed dating" booth. This will allow you to have five or ten minutes per visitor where you can chat through any questions.
360-degree stand – one way to make more of a small stand space is to open it up on three, or all sides. This allows you to be seen from around the room and will give visitors more access to the space you do have.
2. Realistic exhibition stand design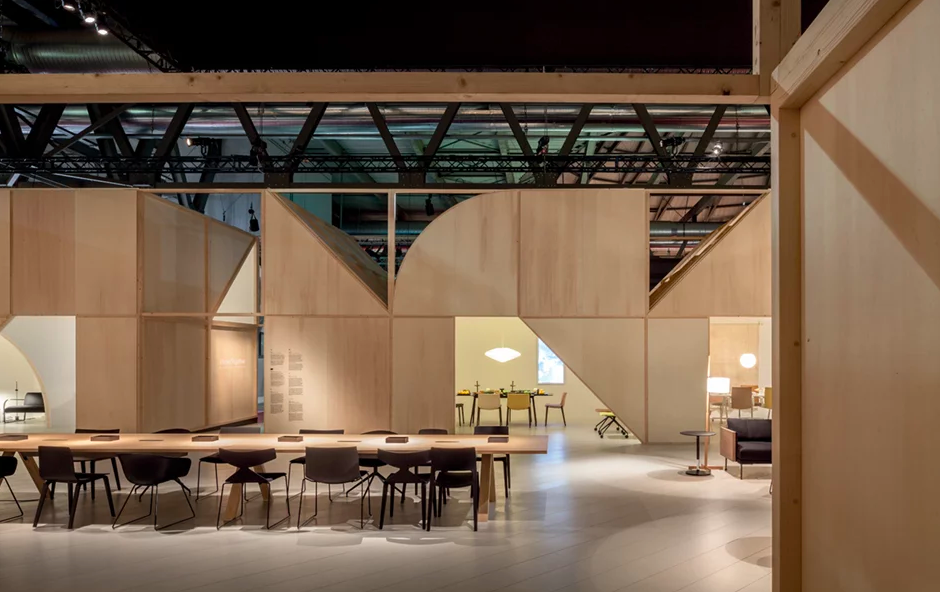 If you want someone to really get a feel for your products, why not create the exact space they might be used in? This is what luxury office equipment brand Arper did at Salone del Mobile 2017 with this simulated office environment.
Why it works:
Craftsmanship and sensitivity goes into creating the perfect products. So designing an exhibition stand in which visitors can actually feel those products, as they might in a real-life environment, is much more effective than showing a video or providing a brochure.
Why not create a "pop up" experience that looks and feels like a living room, kitchen, school or office – whichever environment is best to show off your products and help people to buy into why they're worth their price tag.
3. A flexible exhibition stand design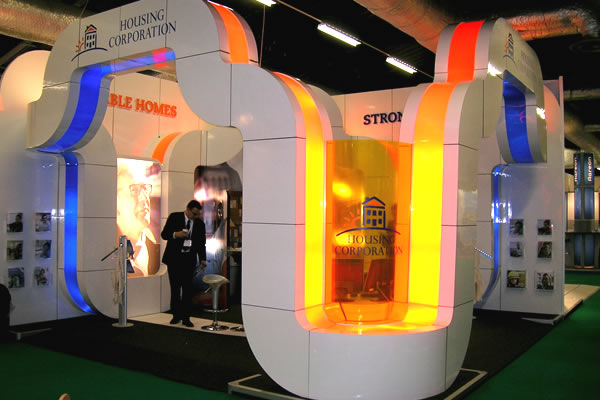 This 54 sq. metre exhibition stand was designed by Apex for use at the Thames Gateway Forum, but was created as a reusable system meaning it could be used at a series of subsequent shows.
Why it works:
Building an exhibition stand is expensive, so you'll want it to be adaptable for future use. Therefore, it makes sense to opt for a modular design. By having elements which can be added or taken away you can modify the design to suit different sized stands and different stand layouts. Standard trade show stand sizes are 10 x 10, 10 x 20 and 20 x 20 and it's worth nailing down a design that could work across all three at the outset. You can draw and cut out the different elements of your design in order to play around and find configurations that work for various stand layouts. The most common types of layout are island exhibits (exposed on all four sides), peninsular exhibits (three out of four sides exposed) and inline exhibits (flanked by other exhibitors).
4. Hired exhibition stand designs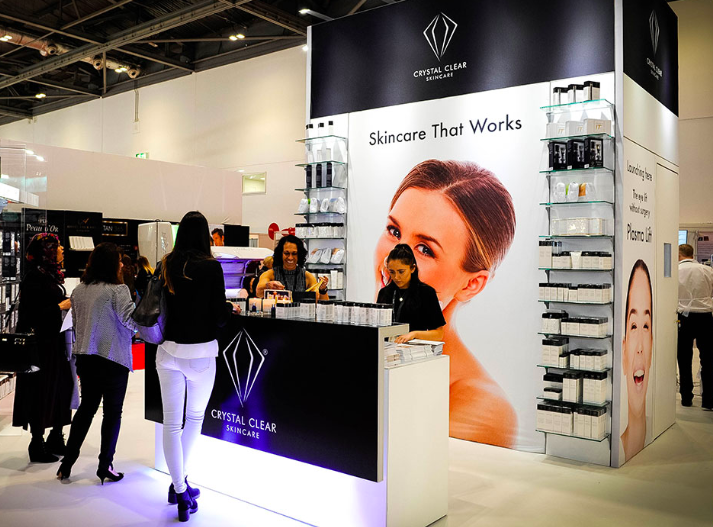 Some exhibition design agencies like Skyline Whitespace allow you to hire an exhibition stand which makes for the ultimate flexible option, as you don't even have to purchase it!
Why it works:
This is ideal for first time exhibitors or those who want to save on cost, and works really well in a store or shop-type of exhibition environment. These types of exhibition stand designs are often smaller than average and are less customisable, but will work well if you want to get a feel and use an exhibition stand design that's tried and tested.
5. 2D and 3D elements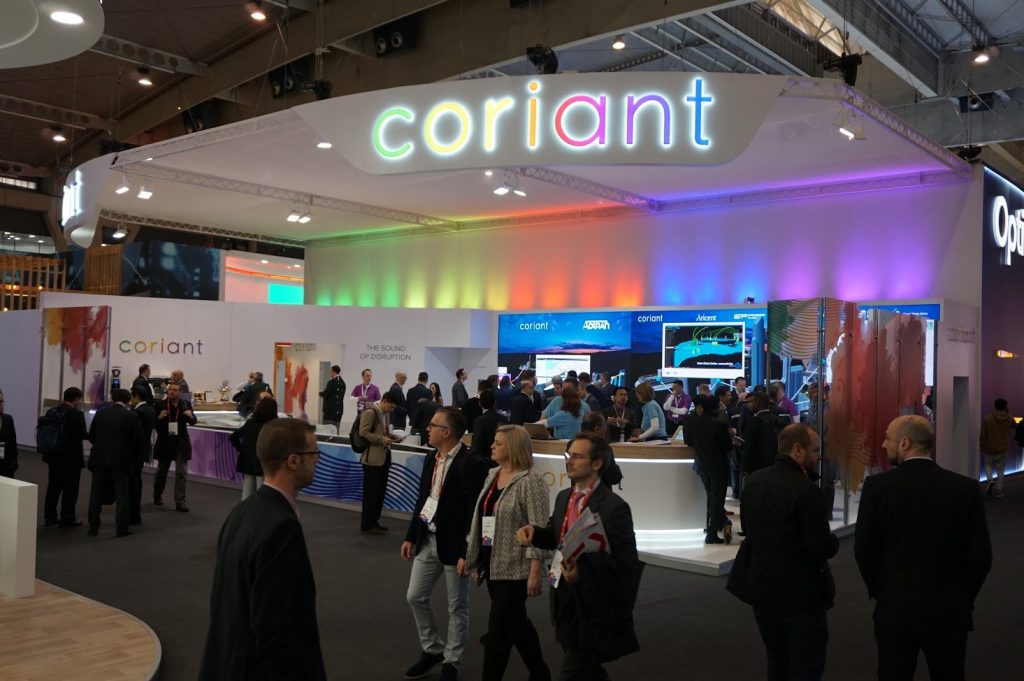 This exhibition stand design by 4D looks great, but also contains lots of 2D and 3D elements that make it more akin to a luxury store or day out. This includes Persian tea counters, water features and seating, plus private meeting rooms, to add to the ambience.
Why it works:
While graphic banners, large screens and signs play an important role in communicating who you are and what you do, it's vital to include more tangible elements too. By featuring furniture and decor you can create more of an experience; a physical place to visit and enjoy rather than a giant advertising hoarding. Make your stand as welcoming as possible with comfortable seating, attractive displays and shelves for brochures. Include a prominent counter to be manned by staff so your guests feel welcomed and help them to escape from the show with a mix of elements in your stand design.
6. An interactive exhibition stand design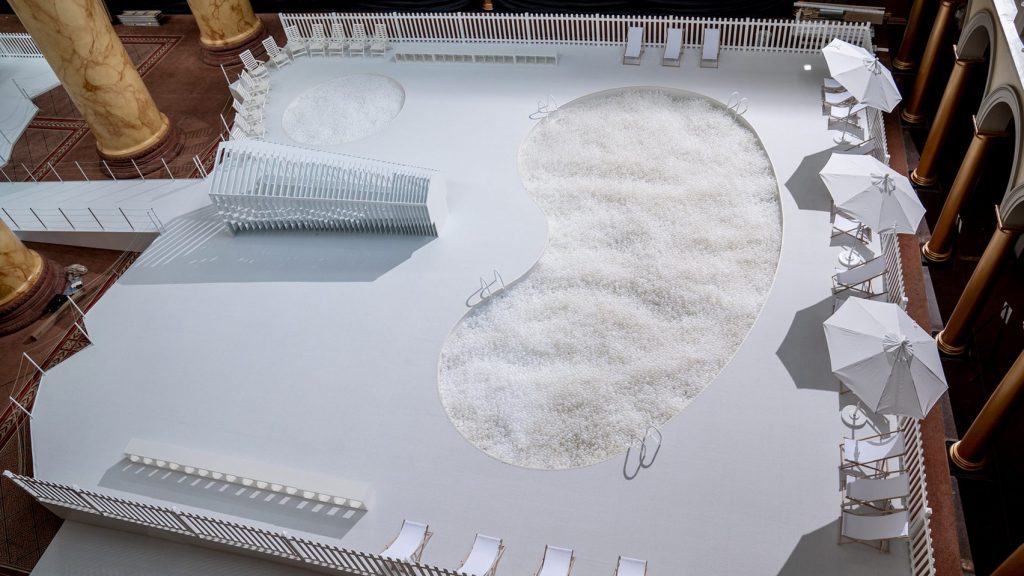 Rather than doing a standard retrospective to celebrate a decade of business, design studio Snarkitecture created this exhibition "fun house" which included a kidney-shaped ball pit and a model house.
Why it works:
This interactive design gives visitors a reason to spend longer on the stand, increasing dwell time, and making sure everyone remembers your business. Interactive features like ball pits, or exhibits that can be explored or walked around, help engage lots of different visitor senses which will make your brand stand out amongst a sea of competitors. Interactive features are also often very "instagrammable" which means your exhibition won't just stand still. It'll travel across social media and engage a much wider audience! Top tip: check out these visitor trade show tips to ensure you're engaging your event visitors the entire way through.
7. Colour themed exhibition stand designs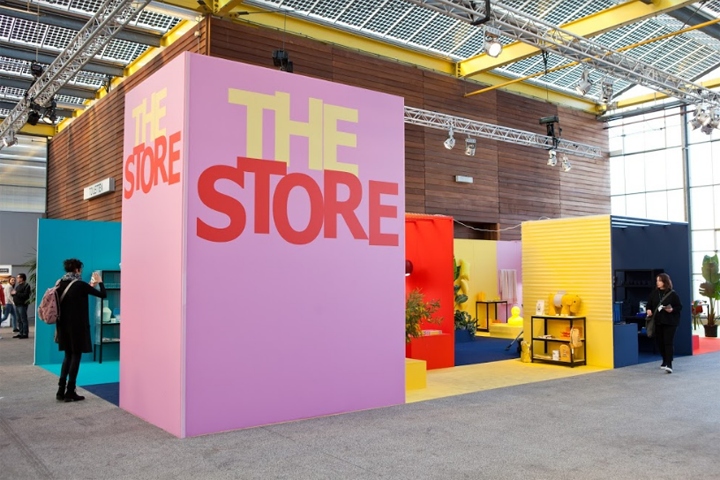 The Store pop-up shop at showUP is a great example of using striking colour in order to captivate passers-by with your exhibition stand design. This approach to colour, rather than your standard corporate branding or the all white Apple-effect, ensures the display grabs attention and makes people pause to find out more.
Why it works:
Bold colours can really help your booth stand out, but choose a maximum of three so your design doesn't become too busy. Work with your existing branding and incorporate it into the core design features of your stand, such as the flooring/carpeting and modular display elements. Don't use too many images either (i.e. lots of product photos) as it will dilute the impact of your design. Instead choose a small number of really striking images to make an instantaneous impression.
8. Graphical exhibition stand design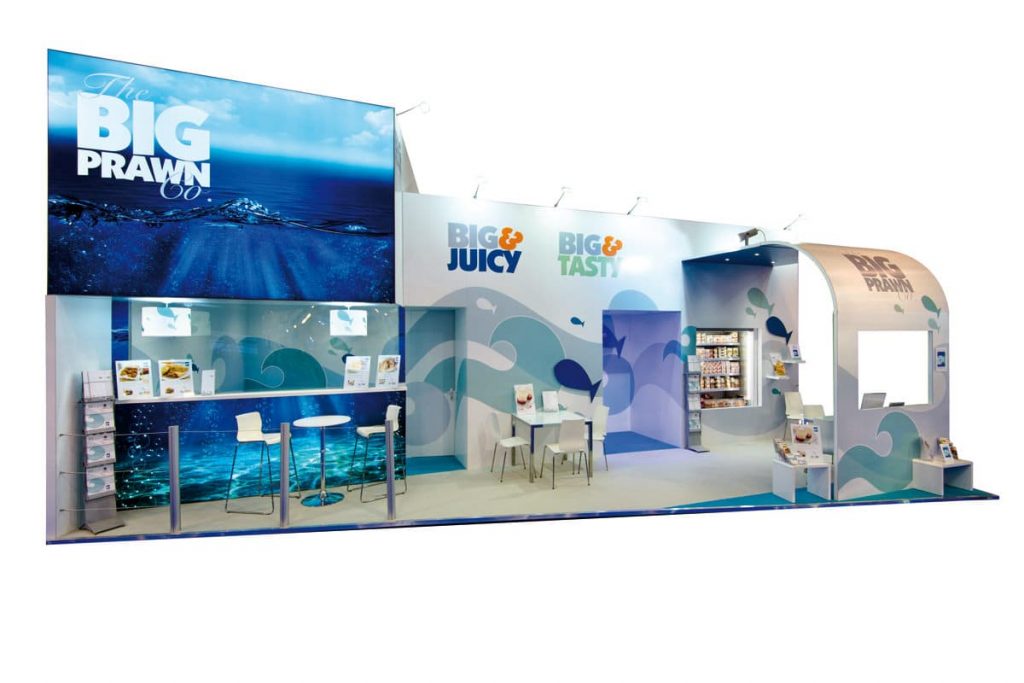 This exhibition stand design by GGS takes a simple stand design and enthuses it with graphics and text to make it stand out and provide an immediate sense of the brand's visual identity. The sea-themed motif goes as far as the fish-printed lampshades to ensure an impact through attention to detail.
Why it works:
Unless you're a very well known brand, it's sensible to incorporate some descriptive copy in your stand's graphic design. This can be a short tagline that lets passersby know what it is you're offering – i.e. "Independent financial advice you can rely on" or "The finest artisan chocolate." Including clear messaging helps you qualify booth traffic – if a visitor can see from a glance that you offer financial advice and they still approach you, you can be pretty certain they're interested in financial advice (or directions to the loos!).
9. Digital exhibition stand design

2LK created this 100-million pixel LED digital wall for Intel, dubbed the "Wonderwall". The digital screen displayed presentations and had motion sensor capability, so both presenters and visitors could engage with it and cause effects across the screen throughout the show.
Why it works:
It's a good idea to incorporate at least one digital screen in your exhibition stand design because what you display on them can be so easily changed. Every time you exhibit, the message you want to communicate may be different; perhaps you have a new product to promote or a special offer for that particular audience. A digital screen such as an LED wall allows you to make those changes without investing in new banners.
What's more, a digital screen with moving images, or with a motion sensor as shown above, can be a really eye-catching feature. You can show a demo video or pictures of happy customers and testimonials; anything that gets people to pause and watch. It's easier to engage a visitor who's standing still than one who's walking past. You can also use the screen for presentations, which gives visitors a reason to stop at your stand for longer.
10. Textured exhibition stands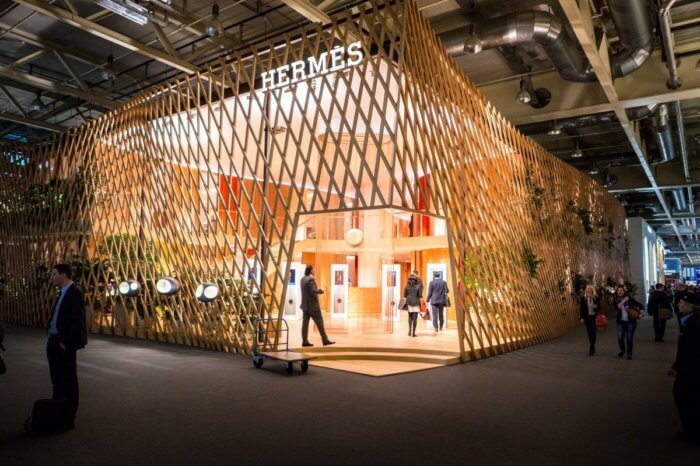 BaselWorld is renowned for having some of the most impressive exhibition stand designs ever and this Hermes Pavilion stand design is no different. Using intricate wooden lattice cladding it feels open and creative, and clearly demonstrates expert craftsmanship.
Why it works:
For your trade show booth to stand out it needs to be visually interesting. A good way to achieve this is by mixing materials and experimenting with pattern and texture. Maybe you decide to place some wood pallet chairs next to an industrial steel table, or kitsch animal print cushions on a sleek leather sofa. Mixing natural and manmade materials and juxtaposing them in unexpected ways will make your stand more intriguing.
11. Lighted exhibition stand designs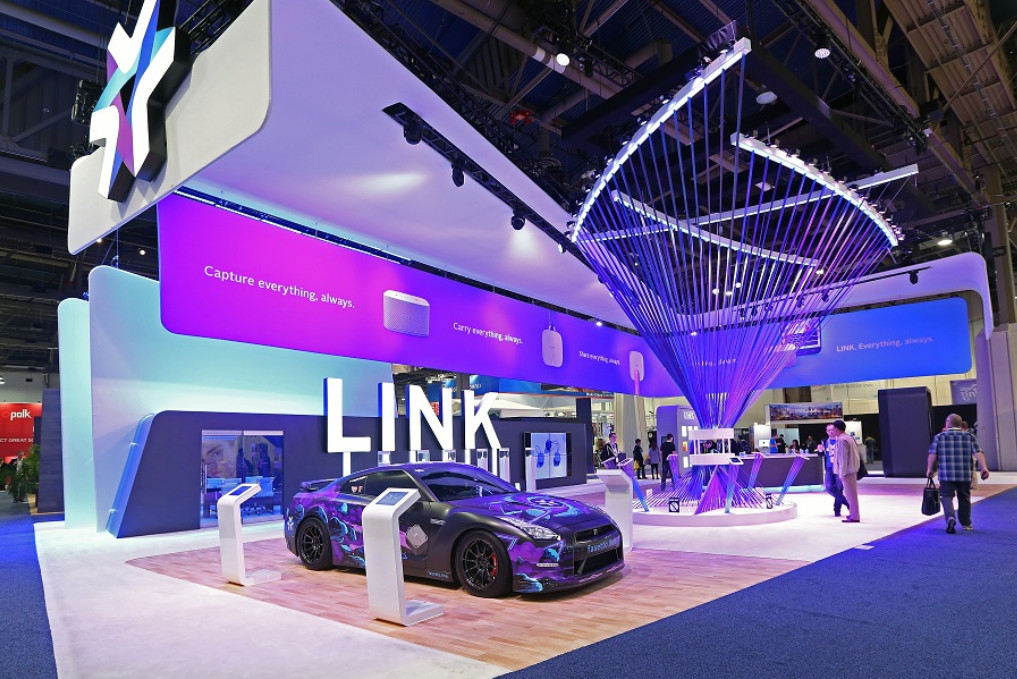 Fasetto used this purple-hued exhibition stand design at CES to create a colour rich environment that caught the eye. As a brand that often struggles to be heard amongst larger technology competitors, the simple yet effective use of lighted colour helped it to stand out without feeling too gimmicky.
Why it works:
Clever lighting can turn a run-of-the-mill trade show stand into a stunning one. Using coloured LEDs you can change the entire look and feel of your stand at the touch of a button. Meanwhile, you can attract attention with retro neon signs, strings of festoon lights, or giant light bulb letters.
If you prefer a more low-key effect, think about a centrepiece light fitting, such as a chandelier, or creating a homely feel with standing lamps and picture lamps. Remember you can also highlight key features of your stand with your lighting.
12. Immersive exhibition stands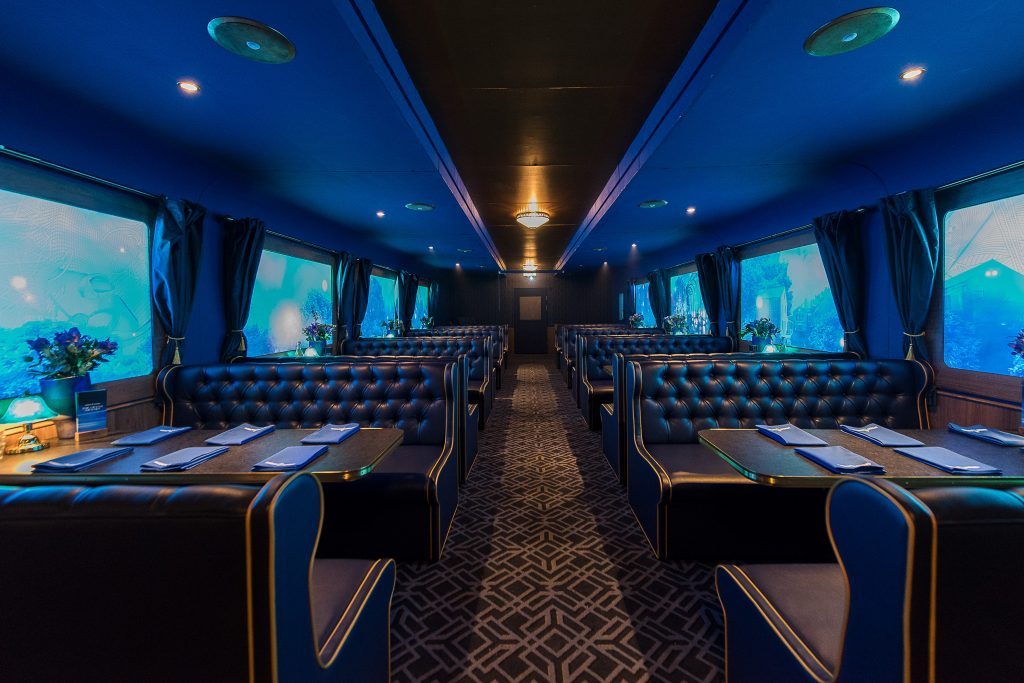 Wasserman created this stand design journey for visitors to experience Bombay Sapphire gin. Guests were invited upon the Laverstoke Express. Once visitors were inside the train they experienced different dishes to taste, a projection of moving images, music, lighting and even fragrance to represent different botanical locations.
Why it works:
Visitors might be at the trade show for work but that doesn't mean they don't want to be entertained. Including a fun, immersive feature can really help draw in the crowds and gives you something to promote in advance of the show. This doesn't have to be a full experience like the above either. Good examples of integrating an immersive element into a stand space are a virtual reality experience, old school games like giant Connect Four or Jenga, or something silly like a bed where tired visitors can rest and hear a bedtime story about your brand.
Another quick win would be including an Instagram-friendly photo opportunity. Think branded stand-in cutouts or photo backdrops or a life-sized cow in your company colours. You could even have a photobooth with props, which prints out photo strips with your logo on. As well as giving your visitors something to remember you by, it will also provide you with added promotion on social media.
13. Exhibition stand freebies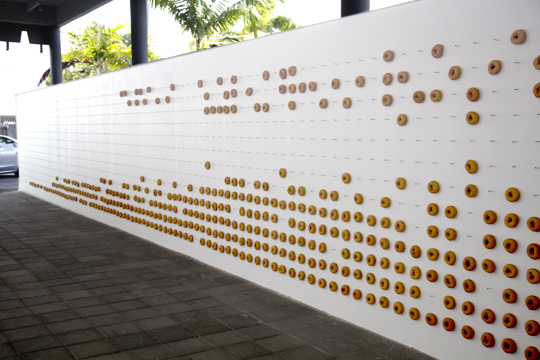 Long before doughnut walls became the latest wedding must-have, Jennifer Rubellused an edible installation of doughnuts during Art Basel Miami Beach, with 1,521 doughnuts hung across a wall in order to attract more visitors through the exhibition.
Why it works:
On-stand giveaways are tried and tested trick to pull in visitors but rather than just handing out freebies, why not take a leaf out of Rubell's book and incorporate gifts into the actual design of your stand? You could have cylinders of shiny apples, a cocktail bar or coffee station. Just remember to have enough of whatever it might be in reserve so you can top up your display.
Alternatively, go for an interactive giveaway like free massages or manicures and design a special area for these to take place, but don't 'hardwire' it into the stand as you might not want to do it every time. Another great idea is including a charging station for mobile devices, which will encourage visitors to spend time at your booth.
14. Exhibition stand meeting areas or suites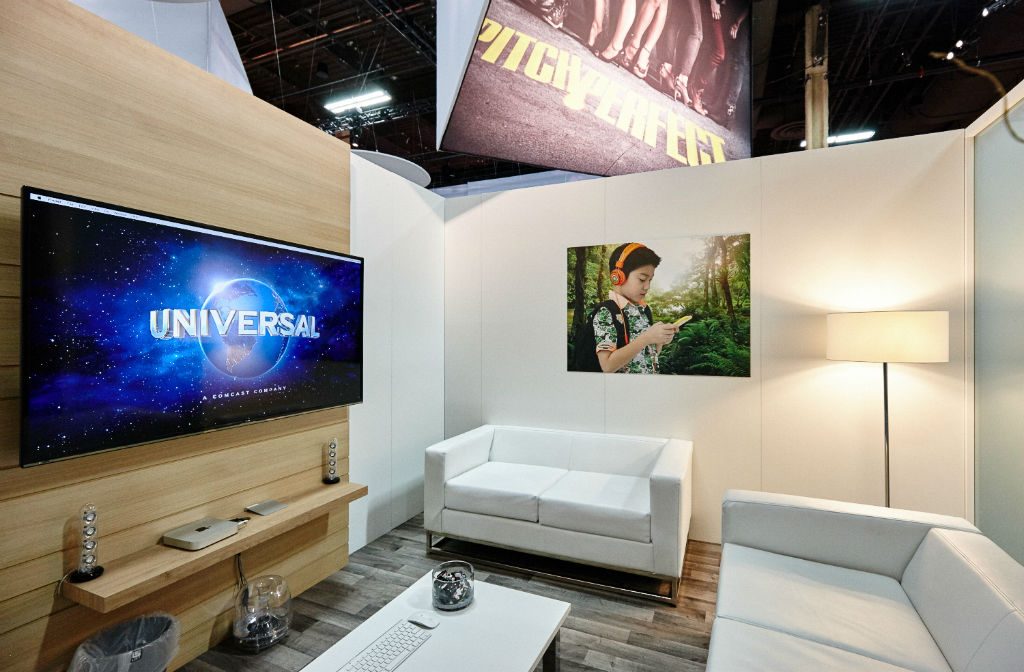 This meeting room suite on the Universal stand at Licensing Expo shows how great meeting room spaces can make the visitor feel like they aren't in an exhibition hall at all! Design touches, like having sofas and a TV screen on the wall, make this meeting space relaxed and engaging while being very much on brand.
Why it works:
You attend trade shows with the intention of doing business, so make sure you include somewhere to take meetings in your stand design. Depending on what best suits your business, it can be a formal desk and chairs, or something more informal like lounge seating or a podium table and stools.
You may want to make this area semi-private by enclosing it on two sides. That way you can pre-schedule meetings in advance of the show and know you will have a quiet space to conduct your talks.
15. An indoor-outdoor exhibition stand design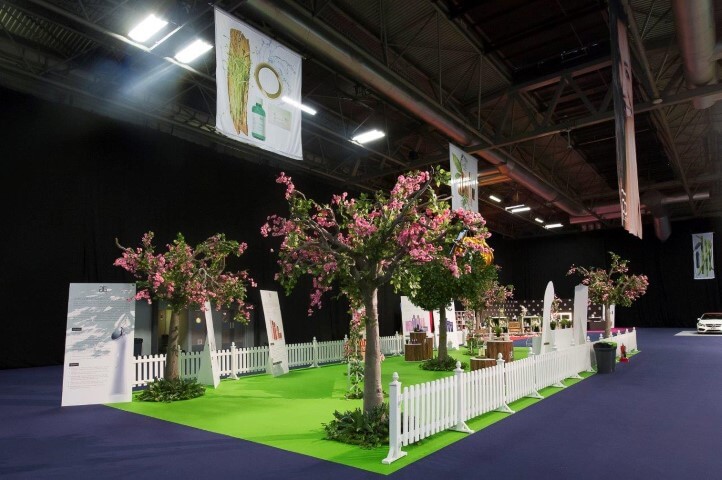 This garden-themed exhibition stand design by Eventologists creates a woodland feel and makes for an interesting photo-opportunity for passersby. It feels more welcoming than a more modern stand design, and will increase footfall by giving attendees a beautiful place to stop and breathe amidst the whirlwind of the show.
Why it works:
Exhibition halls rarely access daylight and the recycled air can become quite stuffy. Using greenery, whether faux or real, helps to bring a little of the outside world inside. This is a great way for an environmentally-friendly brand to communicate their passions, standing out amongst a sea of metal, woods and other conventional exhibition stand textures.
According to a recent study, those who work close to nature report a 15% higher level of well-being and creativity, so incorporating greenery could also make stand visitors feel more positive about your brand.
Conclusion
A trade show stand is the perfect opportunity to showcase your brand's creativity, so don't just turn up with a few retractable banner stands. Even if budget is an issue, you can make a big impact with colour, lights and a few feature pieces of decor that you might even be able to borrow from home! With some creativity and planning you can create the perfect exhibition stand design to connect with your audience and get people talking about your brand.